About MATE Youth Connection (MYC)
Vision Statement:
MYC offers a welcoming, open community youth group with a parental component, growing out of the work of Mission of the Eastward. It was created in 2020, to enrich the lives of youth and their families and to build resiliency in our communities. MYC will offer (in person, virtual or a hybrid depending on CDC guidelines in 2021) fellowship, retreats, service projects, spiritual formation experiences, and education/enrichment opportunities for youth/parents throughout the year that will nurture faith, compassion, Biblical values, stewardship, leadership, peacemaking, justice, wholistic health, ecumenism and interfaith relationships.
MYC is building collaborative relationships with youth/parents to encourage all to reach their God-given potential. Our year-round program exists so that our partners will discover what it means to love God, to love themselves and to 'love their neighbor," creating a community that harnesses the awesome potential for good in God's people."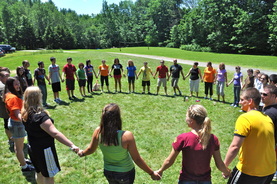 MYC's Innovative New Program
If there is one thing that is apparent in Western Central Maine, there is a resource gap for youth and their parents who are seeking a wholistic, healthier life. We at MATE believe that a wholistic, intergenerational, interfaith, ecumenical, open/affirming approach that considers body, mind, and spirit for youth and their parents, is the innovation that will make a difference in our communities.
The book, The Neighborhood Church, by Tatenlove and Mueller has informed our vision of a life-affirming mission. We will create a "brave space," where we will listen to each other as we articulate our neighborhood's needs and work towards a brighter future together. The framework mentioned in this book is integral to work we will do. We will use an asset-based community development format which builds on our communities' strengths. This approach is also innovative in our region.
Unlike the Boys or Girls Clubs or after school programs, MYC will introduce families to the things that make for faith: peace, kindness, acceptance, outreach, justice, forgiveness, and love. We believe that this innovative "church" experience might not take place in a sanctuary but will exist in the relationships we create between God, the people we serve, our neighbors and ourselves.
Innovation also occurs when we offer varied spiritual formation experiences where some learning takes place in an interdenominational, multi-faith environment. Whether it be in person events or virtual formatting due to COVID-19, or a hybrid of both, we will be enriched by differing perspectives regarding topics that deal with the human condition. Through our partnerships, we believe our youth/parents and we at MYC/MATE will all be transformed. MYC will sow intentional leadership seeds that will produce future leaders of faith, nonprofits, public servants, and educational/governmental institutions. This is gift that will keep on giving!
 We bring strength, confidence, enrichment, support structures, leadership, and relationship building skills to those in our influence sphere, and so by, we build up youth and families. Through our programs, we inspire hope and offer help. We do this by offering a vision of a preferred future and partnerships to get there. We realize MYC may be the only exposure to Christianity that some people may receive. Hope and support of all kinds can help build faith, strength, and community.
Mailing address:
Mate Youth Connection
PO Box 206
Farmington, ME 04938
Phone : (207) 713-6283