The McCleary House:
MATE's Transitional Housing Unit
The need for affordable housing in the Farmington area is dire. The situation became more urgent on September 16, 2019, when the LEAP building in Farmington exploded, also destroying housing for 14 households nearby. In response, United Way of the Tri-Valley Area created the LEAP Explosion Fund; generous donors contributed over $218,000 to help.
The fund allotted more than $164,000 to assist with a variety of essential needs for those affected; 48 people required housing, food, replacement of lost items, and a heating system. In addition, money went to the Fireman's Benevolent Fund, explosion clean-up, mental health services, and a memorial art installation. Remaining funds were set aside for affordable housing projects.
The explosion intensified the need for affordable housing in the community. In addition to the ongoing critical need, there has been the added challenge to find housing for those families and individuals directly affected by the event.
McCleary House is owned by Fairbanks Union Church. It was used for church storage.
Partnering with Fairbanks Union Church and other non-profits, MATE began renovating the McCleary House for transitional housing in the spring of 2020. The project allowed MATE to begin an innovative initiative to address the lack of affordable housing and homelessness in Farmington.
Generous grants from United Way/LEAP, Synod of the Northeast (PCUSA), Presbyterian Women, an anonymous donor through the Maine Community Foundation, and Reisert Foundation, along with donations from individuals, organizations and churches, MATE put in new heat and hot water and completed electric repairs. Volunteer teams fixed the floors, roof, foundation, basement, septic and plumbing. Windows were replaced and doorways widened to accommodate wheelchairs. Volunteers created an ADA/disability friendly kitchen and bath, repaired a family bath, made a laundry area, and update sleeping rooms, a dining space and a gathering room. MATE also insulated and weatherized the house. We exceeded our funding goal for McCleary.
Phase I of the McCleary House renovation was also a critical focus of the 2021 and 2022 work seasons. MATE volunteers worked hard and accomplished much. Financial contributions from many partners bought building supplies and professional assistance where needed. Donors "adopted" areas of the house and provided furnishings and other household items. The basement was cleaned and waterproofed,
However, like many other organizations, MATE was greatly impacted by the pandemic, supply chain issues, rising costs of building materials and lack thereof, fewer volunteer work teams, and the inability to hire skilled insured certified tradesman when needed for certain portions of the renovation. Due to that limited availability of contractors, we waited in line to get services from those who already have busy schedules. These factors slowed the renovation and altered our timeline of the project.
Despite challenges, Phase 1 finished in November 2022. MATE's first guests moved in December 1, 2022. Officially launching MATE's Transitional Housing Ministry.
Work on McCleary House Continues In summer 2023 on Phase 2 – the upstairs bunk room and storage area, more insulation, egress with the small deck and stairs outside, and the heating and cooling. This will be followed by painting, roof fixes, landscaping, fencing, and creating a firepit area outside.
This dream couldn't have become a reality without the dedicated support from all of our volunteers, donors, and funders throughout this entire two-year process. The list of those we'd like to thank would go could go on for pages, so we'll just give a BIG and heartfelt thank you to each and every one of you… a family will be warm this winter because of your commitment to our cause!
The Project's Mission:
MATE's primary mission for a transformed McCleary House is to provide temporary transitional housing to those without other viable options. To assist Franklin County's community members who are housing insecure, McCleary House offers an innovative solution to a basic human need: shelter.
In addition to this primary mission, the project allows MATE to expand its Housing Ministry (MHM) work season. MHM works to renovate and repair houses all over the community for folks who cannot afford to pay for the work or do the work themselves. McCleary provides an affordable housing option for teams volunteering for MATE in summer and early fall. Currently MATE uses University of Maine Farmington student dorms in the summer for work teams; dorms are not available for MATE volunteer housing in the fall.
Here is How You Can Help:
There are a variety of important ways you can support the transformation of McCleary House, and MATE appreciates all of them!
Volunteer your time and talents:
People are critical for the work to get done – hands to break down, put together, paint and fix. You don't have to have specific skills to provide much-valued assistance, but we can also use special expertise such as plumbers or electricians.
Volunteers come from close by and far away. MATE especially invites local community members to help with housing renovations, including the McCleary House project. Due to COVID there has been a decline in the number of volunteers coming from outside of Maine to help, but no drop off in the number of families requesting assistance.
MATE welcomes all participants, teens to older adults. Stay a week or just for one or two days. You can come with a team, your work colleagues, friends at the bowling alley or by yourself. MATE appreciates all efforts!
Make a monetary donation:
The McCleary House renovation project is possible because MATE received generous grants from United Way of the Tri-Valley Area, Synod of the Northeast (PCUSA), and an anonymous donor through Maine Community Foundation. Grant money provides a firm foundation for the additional money required to complete the transformation. Funds are still needed for building supplies, ongoing maintenance, labor not available from volunteers and household items.
To make a monetary donation, click the button below. And, thank you for your generosity.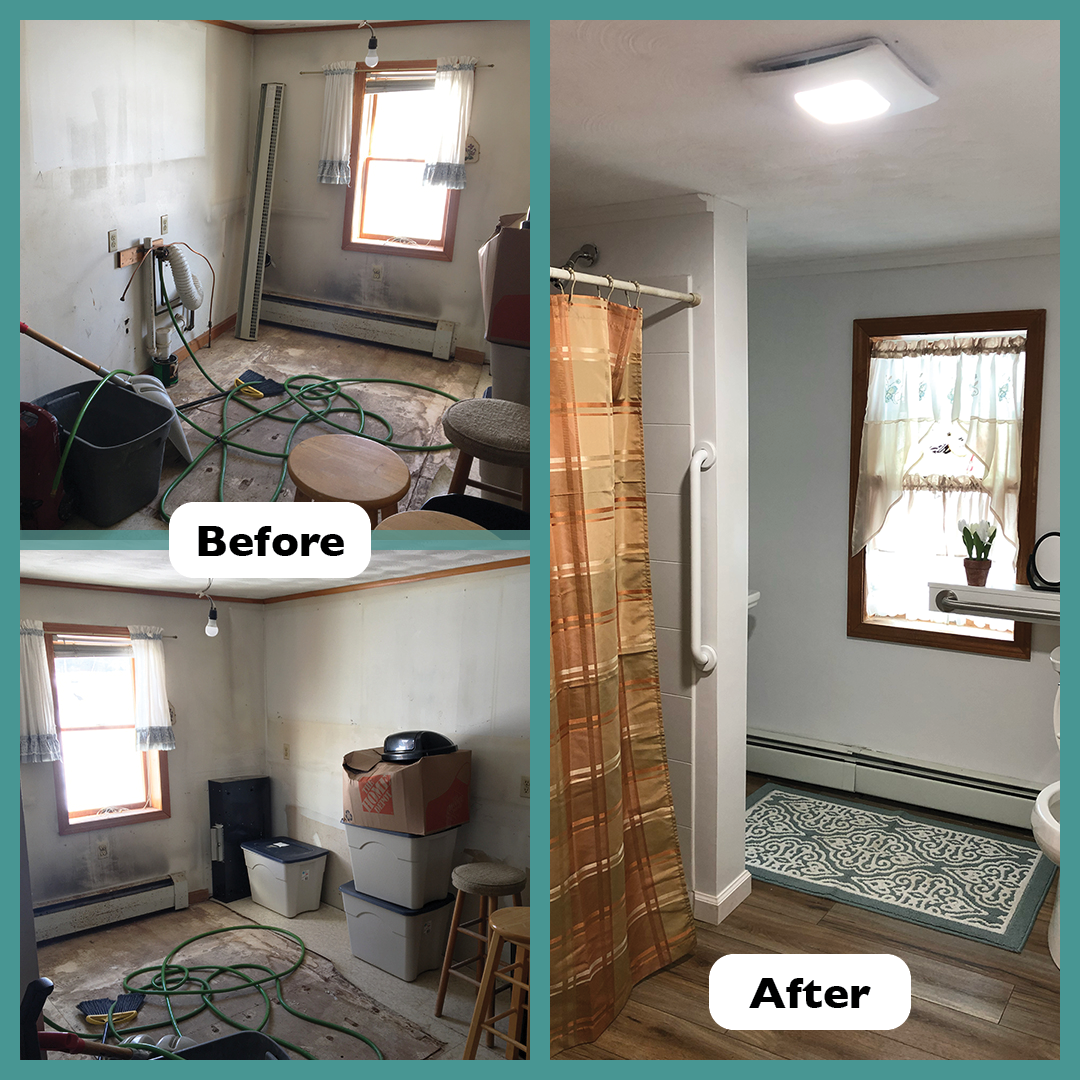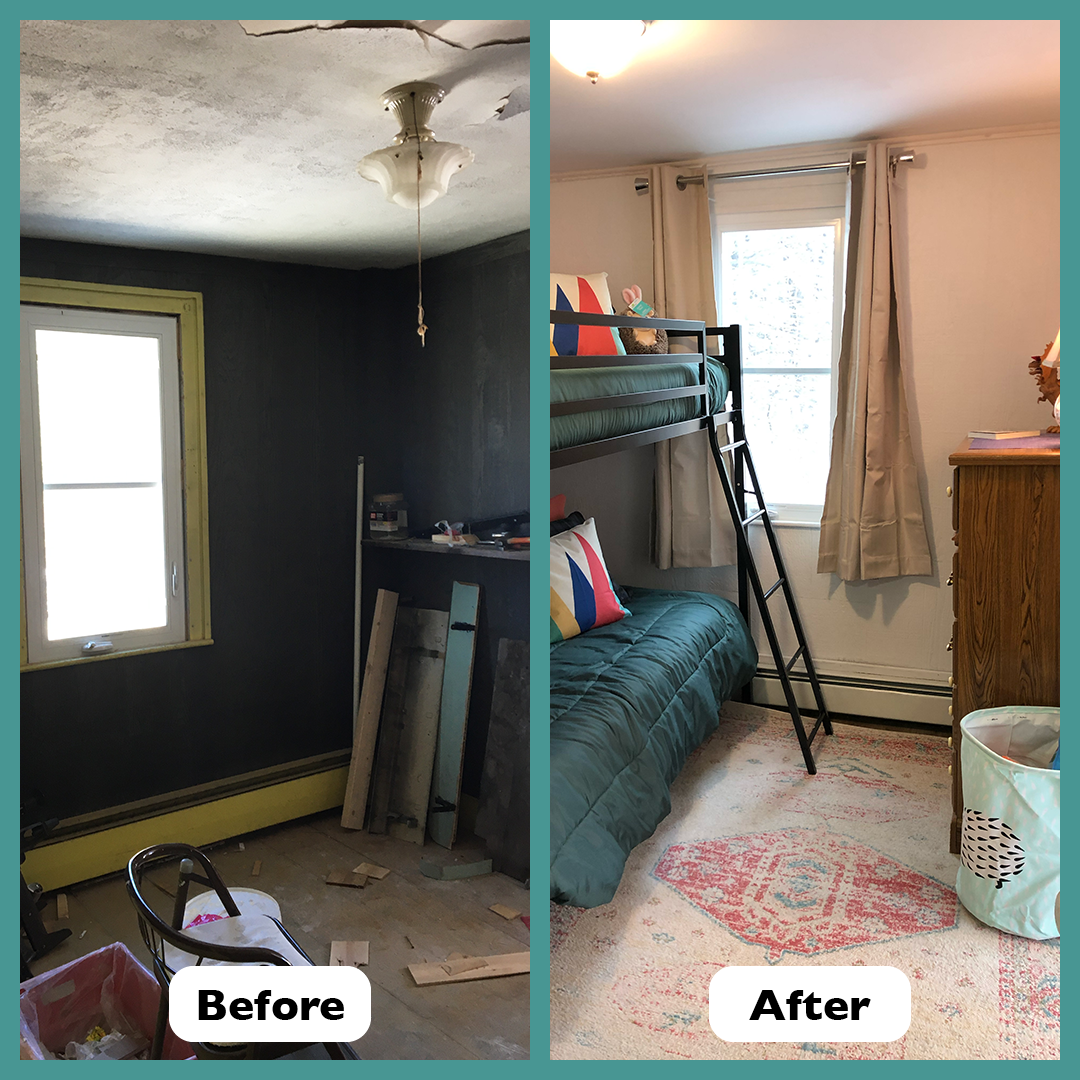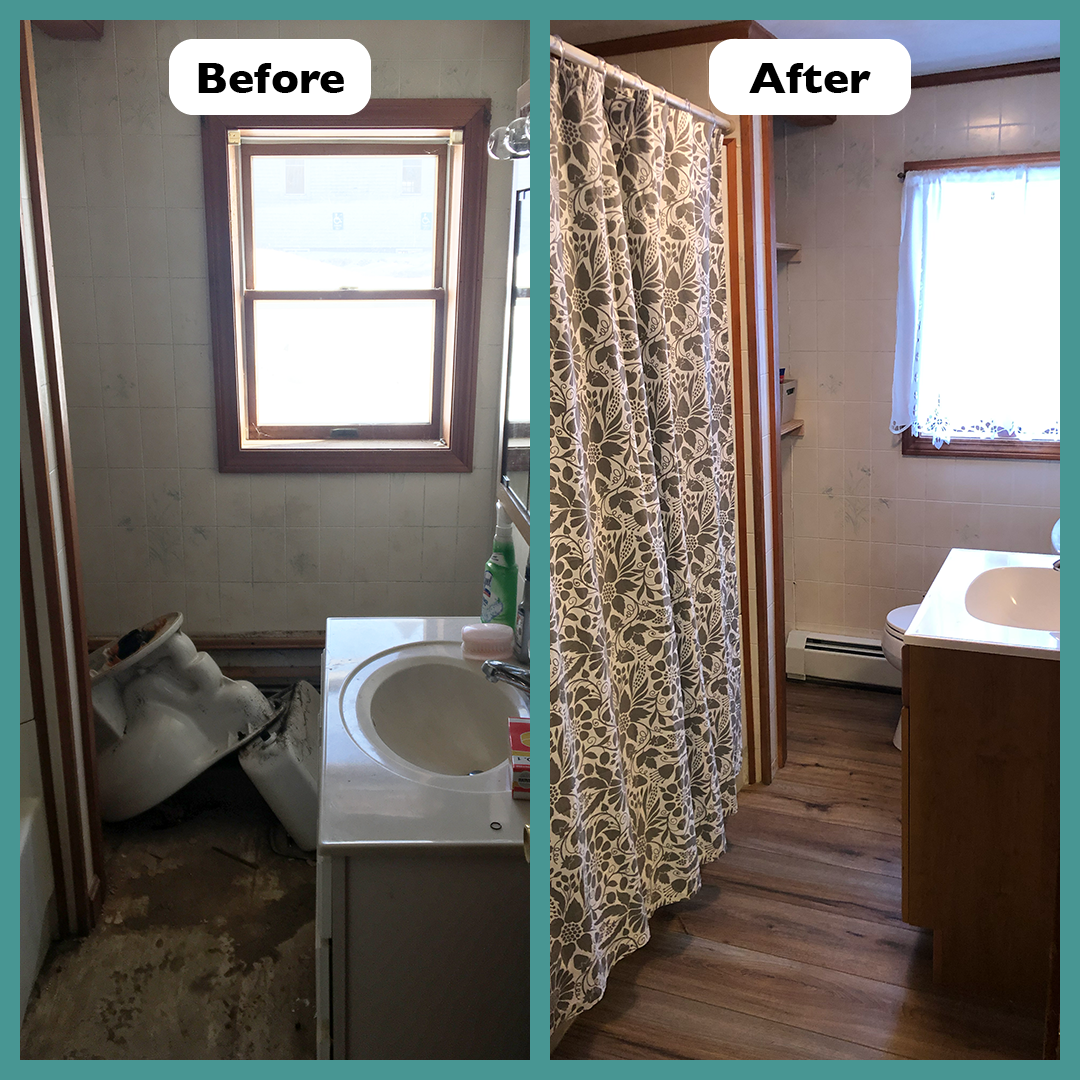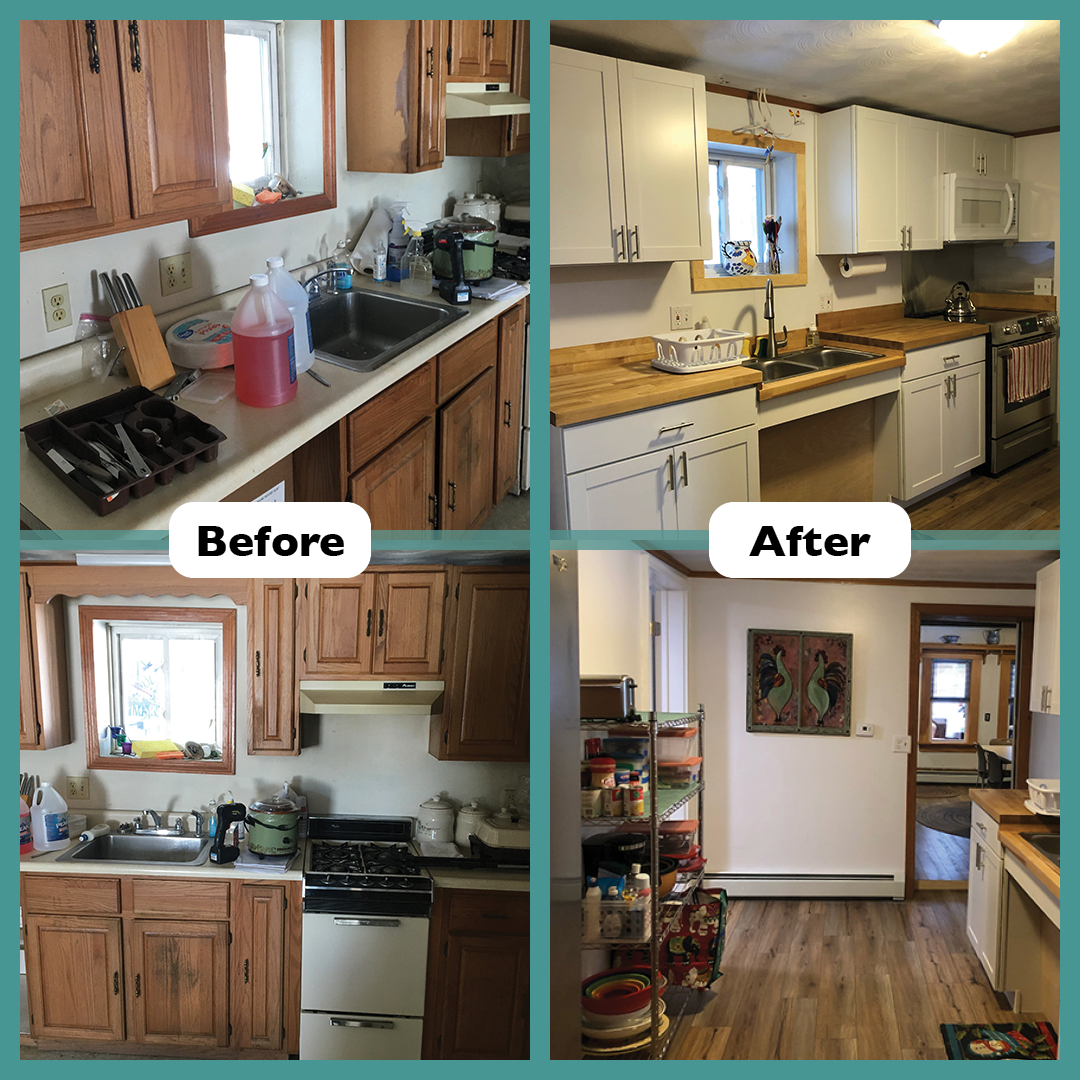 Phase I 2021 – Completion of transitional housing.
The following areas can be adopted:
Family Bath – $1200
All new toilet, flooring, small linen area, vent/fan, plumbing, lighting, refurbish existing vanity
Various Floor Fixes Throughout the House (not bunk/bath) – $3000
Even out floors, new flooring, small portable ramps, safer egresses on main level
Phase II 2022 – Upstairs bunk and storage area to accommodate volunteer work teams.
The following areas can be adopted:
Building Out Bunk Area – $3000
Building supplies, ceiling joists, sheetrock, lighting, framing, flooring, stair railing, additional insulation
Bunk Area Egress – $2000
Egress platform/railing system and stairway to ground level to evacuate safely
Bunk Area Outfitting for Work Teams – $3000
Eight new mattresses, 4 bunk/platform beds that sleep 8, linens, dressers, lamps, rugs, storage bins, nightstands
Storage Space Floors, Walls, Shelving – $1000
Painting Outside of McCleary – $2500
Dedication/Naming
Donors have the opportunity to dedicate their adopted space. You might consider making your generous gift in honor or memory of a loved one. A dedication plaque will be placed near the adopted area or service.
Areas that have already been funded:
Utility/laundry area – $2000
Donated by Rev. Blair Moffett
Landscape – $1000
The Olsen Family-In memory of Stan Olsen – 
2 Family Room Bedroom – $1750
The Hagy/Dobbins/Pease/Brachle Families-Dedicated to McCleary's Guest Clients – 
Large Family Gather Room, Study, Area for Kids, Firepit Gathering Spot – $3750
Donated by Frank and Marion Hauck in honor of Walter and Madeline Hauck – 
Disability-friendly Bedroom – $2000
Donated by Camp Hill Presbyterian Church
Entrance – Reserved
Bench, storage
Reading Room – $500
Donated by Walter Gooley
Donating an Item:
Help by purchasing needed household items. Click on McCleary House Wish List button below to link to Amazon for purchase and shipping, or purchase and ship items yourself from another source.
Help us finish getting ready to host our first guests this winter by generously donating the few items left on our list… we're almost there!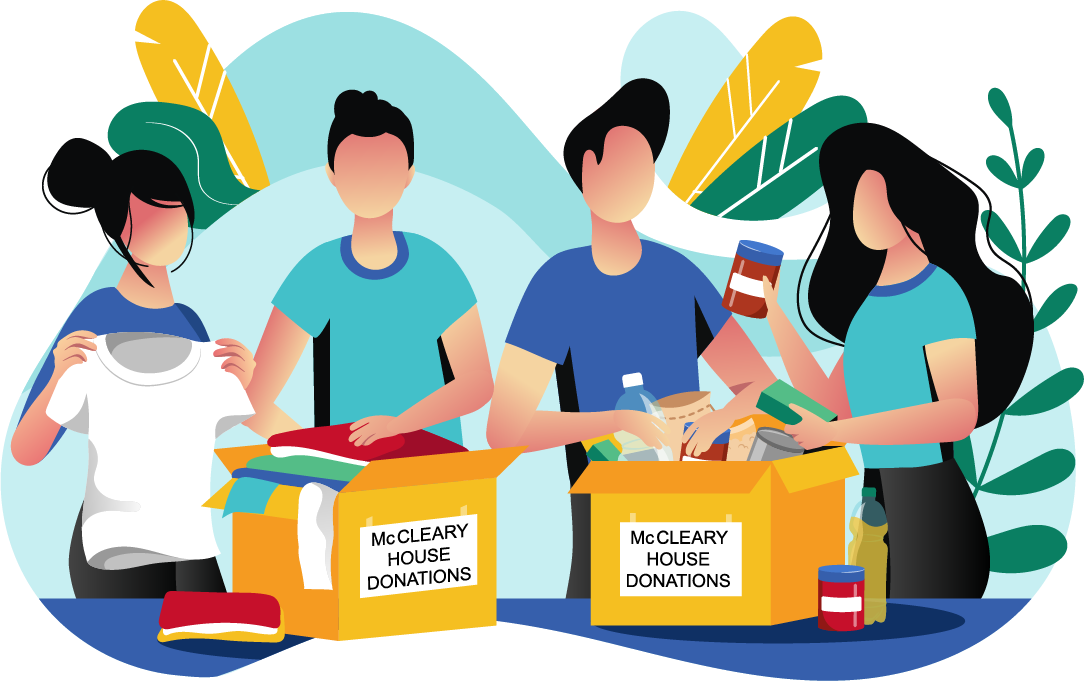 You Can Volunteer!
After McCleary is finished, we will need volunteers to do all kinds of things. MATE is collaborating with other non-profit organizations to provide services required by transitional housing guests. In addition, members of Fairbanks Union Church, one of MATE's mission partners, along with other volunteers from the community and MATE, will welcome McCleary's guests.
You can join us! We welcome your skills, talents and time.
Some ideas: We need helpers to:
Drive guest clients to appointments
Make a meal once a month for our McCleary guests
Provide gift cards at Christmas time
Bake a birthday cake
Donate gas cards for guest use so they can get to the grocery store, school, jobs, doctor appointments
Share your special talent or professional service with our guests for haircuts, financial planning, reading with kids, tutoring, dental cleanings, teaching a sport or craft, cooking class, playing chess, etc.
Your other talents
Please contact MATE's Executive Director to find out more ways to serve or to offer your support and participation.
Funding for the Project: Showing Strong Community Support
MATE received generous grants from United Way of the Tri-Valley Area, Synod of the Northeast (PCUSA), and an anonymous donor through Maine Community Foundation. A timeline of McCleary contributions is shown below.
---
2020-MATE $9000 secured
Window replacement, electrical upgrades, new walls
---
2021-United Way/Leap Explosion Fund $30,000 secured
Heat, hot water, additional electric upgrades
---
2021-Anonymous Donor/Maine Community Foundation $10,000 secured
General, ADA bath
---
2021-Innovation Grant Synod of the Northeast $15,000 secured
General
---
Reisert Foundation $7500 secured
Disability-friendly kitchen and flooring
---
Presbyterian Women Birthday Grant $80,000 secured!
This fully funds the McCleary House project!!!
---
2021-Community Participation-Adopt an Area/Donate an Item Fundraiser Goal $25,000
The Project's Basic Budget:
For information about the McCleary House project budget, interested donors may contact MATE's Executive Director, Chris DeLisle, at (207) 713-6283 or cdelisle@missionattheeastward.org
With Gratitude and Thanksgiving - A Note to our Supporters
We cannot say it enough, MATE cannot do what we do without you! You really do make everything good happen at MATE! For everyone who cares about people who need safe housing, for everyone who has a heart for the most vulnerable, and for everyone who wants to work on providing positive solutions for the housing insecure, we thank God for you. Whether you give of your treasure, your time, or your talent, you are helping people have the ability to live a life characterized by dignity and hope. Thank you for being "helpers" in the world today. We treasure you and the partnership we have with you!
Looking forward, know we are dreaming about more ways to serve the needs of Farmington and Franklin County with future outreach projects. And, we look forward to your continued partnership in our work.
*A special thanks to Paula Olsen of BaileyDonovan Design for donating her gift of creative design work and the printing of the "Transform McCleary House brochure." Paula, you are wonderful!
What People Are Saying…
TESTIMONIALS
MATE Volunteer
Volunteering has so many wonderful outcomes: It builds life skills, provides opportunities to learn, boosts confidence, grows leaders, reduces stress, inspires happiness, helps create new friends and appreciate diversity, and it can even plant seeds for future careers! We can volunteer any time, even amidst these very challenging times!
Karen H.
Youth Trip Leader
"In addition to being the Senior Pastor, I have been the Youth Pastor and I have always found that meaningful service work is transformative for youth. It's transformative for everyone, but for young people I get to actually watch the before and after. So that's the first reason why MATE matters to me."
Rev. Max
MATE Volunteer
"Our recovery work team commitment has transformed our comfortable community church into one of mission and outreach, and has had a life-changing impact on those who go. The stories are endless, inspirational, spiritual. We return with opened hearts and minds. Our work restores our faith in humanity."
Larry C.
MATE Client
"I'm just trying to do the best I can for my kids—trying to break the chains of an abusive childhood and give them a life of stability that I never had."
-Ashley
MATE Volunteer
"MATE gives me the opportunity to put my faith into action, and work together with others to accomplish something that we couldn't do individually. It's a living illustration of the Body of Christ, where we all contribute our different talents toward a common goal."
MATE Volunteer
I got to help on a crew that was putting a metal roof on a mobile home. Valerie, the homeowner, was such a special person. I loved getting to hear her story. Often the most rewarding part of this job is listening to the homeowners.
Karen R.
Youth Trip Leader
"MATE gives people, including youth, the opportunity to really serve others in tangible and meaningful ways. Young people from all over our school district rush to sign up to come to MATE with us when the first announcement goes out in September."
Rev. Max
MATE Client
"I woke up that morning and felt like a new person. The constant stress was gone and I could breathe again. I could get my life back on track."
-Ashley
MATE Volunteer
"Working in the kitchen with the crew is always such fun… We all serve different purposes, but are all part of God's work team."
Joy D.
MATE Volunteer
"I've met homeowners who inspired me with their perseverance in such difficult situations, and the kindness and generosity they showed to us strangers." 
Alan D.
MATE Volunteer
"Hard work paid off. The finished product is amazing. So glad I was able to make a difference."
MATE Volunteer
"Working in the kitchen with the crew is always such fun… We all serve different purposes, but are all part of God's work team."
Joy D.
Youth Trip Leader
"When I think of the 30 odd families that the teams of adults and youth from our church have helped in those four years, the ways in which we have improved the quality of their lives with safe stairs and ramps, weather-proof walls, siding and roofs, new floors, kitchens and bathrooms, anyone who has come to MATE knows what's possible, well, it just warms my heart. To know that these people really have nowhere else to turn and not getting the help may very well mean having to leave their homes, and to know that every time some lady or gentleman turns on their kitchen water or holds the handrail while walking through winter snow and ice, that she or he might just think of us and smile while thinking, 'that was that pastor and kids from down near Boston who did this for me,' that's more than thanks enough for me."
Rev. Max
MATE Volunteer
"I learned lots of very valuable life lessons on this trip. Thanks MATE!"
MATE Client
"I didn't want to lose my home, but that was the only option we were coming to before MATE was able to help."
-Ashley
MATE Volunteer
"This has already turned into a highlight of my summer. Thank you!"
MATE Volunteer
"This experience has been such a blessing to me. Thank you for this opportunity"
MATE Volunteer
"Thank you MATE for the experience and opportunity to help others."
MATE Client
"It's a surreal feeling to know that my house and kids will be warm this winter."
-Ashley
MATE Volunteer
"Thank you MATE for the experience of a lifetime."
MATE Volunteer
"Awesome Time. Great projects. Great people. Great state of Maine."
MATE Volunteer
"This has been such a great experience that put everything into perspective."
MATE Client
"Thank you to all those who support MATE and make it possible to help people like me. There are families like mine out there, doing their best to make ends meet and provide for their children, who just don't qualify for the aid they need."
-Ashley
MATE Volunteer
"Thank you so much for the opportunity! So grateful for what this has taught me and shown me."